Rugby Team Features Freshman Players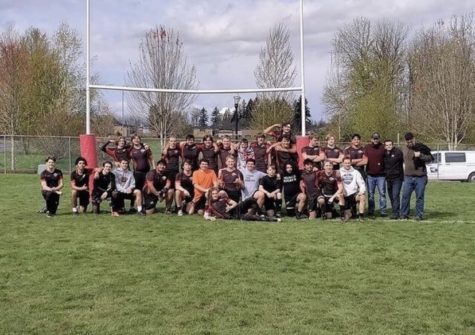 Jeremy Turner is a freshman on the West Valley rugby team. Rugby is important to Turner because he's always wanted to try it and he's made a lot of new friends within the sport. 
He was introduced by his friend freshman Quintin McAvoy. 
McAvoy is also on the rugby team and started playing because he saw his sister play. 
"My biggest component is getting the ball out wide," he says.
Manufacturing teacher Trevor DaSilva has been coaching the West Valley rugby team for nine years. DaSilva learned rugby from his dad. He uses rugby as a way to stay connected to his dad. 
"I think the biggest component as of now is experience. There's a lot of new people who have never touched a rugby ball before and I'm glad I get to teach them." 
DaSilva enjoys rugby because of the team, games, the team work, and the people he gets to coach. 
The basics of rugby are no blocking, can't throw forwards and everyone runs. So far their biggest opponent is Lincoln. 
Rugby is a 15 a-side team sport, the object of the game is to ground the ball behind the opponent's try line, into what is called the in-goal area. 
Rugby is played with both in hand and kicking the ball. But if the ball is in hands it can only be thrown or handed off backwards as well as sideways. Not allowed to block when passing the ball.
For more information about rugby and the team, contact Trevor DaSilva.