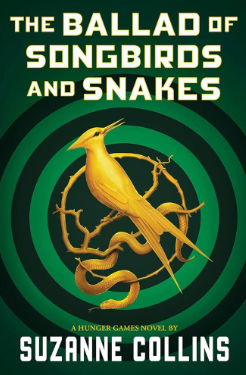 "The Hunger Games" has been a widely popular and loved trilogy since its first release on September 14th, 2008. Since it came out and rose to popularity, it has set a precedent for dystopian stories to come.
In "The Ballad of Songbirds and Snakes," it follows President Snow's backstory as a lower-class citizen of the Capital during the tenth annual hunger games. He is painted as an upstanding citizen as he fights to keep his family's honor alongside his cousin, Tigris, who we are introduced to in "Mockingjay", the third book in the original trilogy. And now, instead of acting as an antagonist, he is the one being antagonized by almost everyone he comes across.
What we know of the Hunger Games from the original trilogy is that the tributes are treated with respect and courtesy by all of the Capitol. The arenas are well manufactured, the tributes are fed well and trained, and are important to everyone in Panem. In "The Ballad of Songbirds and Snakes," it is set sixty-four years in the past. Instead of being treated to pristine bedrooms on and off the train, the tributes are driven to the Capitol in livestock cars while chained and beaten. They are forced to live out their days in the Capitol inside a disused monkey cage in the zoo, where there are multiple deaths and/or attacks made by both sides of the cage. By the time the games start, there are only a handful of tributes left, and that is without the disaster of an arena.
My favorite aspect of the book was that despite the drastic change in story, it still felt like the original Hunger Games. The natural rawness of the poorly designed and inexperienced systems actually enhanced the feeling of originality. Although, on the other hand, this also led to some of the plot points feeling unexplained, such as the layout of the arena or the buildings in general. In my opinion, it was somewhat hard to determine where a character was without the book directly telling us.
The idea of Coriolanus(president) Snow experiencing the horrors of the games, in and out of the arena, is unexpected. His cruelty as a president doesn't hint much towards his own experience as a poor and traumatized Hunger Games mentor, especially to a young girl from District 12, whom he loves. His view on other characters, such as his "friend" Sejanus Plinth, reminds you that he is, in fact, a haughty and stuck-up Capitol citizen, even if he is about to lose his home to tax inflation. His character arc throughout the book reflects on his role in the original trilogy, and gives an accurate backstory to the Coriolanus Snow that we already know.
In all, I would rate this book a nine out of ten. It's a great addition to the series, and it adds value to and enhances the story.