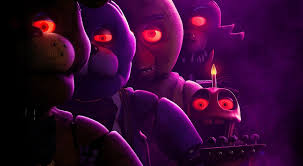 The popular video game Five Nights at Freddy's, since taking over theaters as a new hit movie, has attracted a lot of attention. Critics argue that the movie didn't live up to its expectations, while others claim that the movie did just that and more. As a topic of interest throughout all social media platforms, the movie has attracted all sorts of attention and opinions. 
With the story line based on the video game franchise, the movie follows Mike (Josh Hutcherson) the troubled security guard as he works nights at the pizzeria and fights to save his sister Abby (Piper Rubio). 
After Mike is hired, he realizes the job entails much more than he thought. The animatronic stars of the pizzeria become active at night and aren't welcoming to visitors. Things surprisingly come full circle for Mike when he realizes the answer to his missing little brother might be in the same pizzeria. 
One prominent critique within the fan community is that the script doesn't live up to the "horror" expectations the movie set. Pre-release, the filmmakers said it would be a scary thriller but instead, it seemed to cater to a younger audience. The frequent heartfelt, emotional undertones and frequent scenes of the animatronics playing and fighting back against the pizzeria make it out to be more of a family movie. 
Similarly, critics are also frustrated with the lack of references to the video games. The movie doesn't follow the plot of any games and adds a few unnecessary themes, characters, and scenes.
 For example, The Night Guard has two younger siblings who play big roles in the movie but aren't necessarily related to the game story lines. The movie also includes Vanessa, a second Night Guard from a later game who never interacted with the original Night Guard in any of the early games. Fans who were looking for a game-realistic movie were disappointed. 
However, many were pleased with the use of real animatronics using puppet technology instead of regular CGI. The character Foxy turns, blinks, opens their mouth, and even moves their hands and ears.
For a $20 million budget, it makes sense for the older audience's fears and suspicions of the movie to be confirmed. But the newer, younger fans entering the fan community appreciate the movie and that's really all the original fans could ask for. 
In my opinion, I think that the movie could have had a more thought-out plot and better references to the game's story line. If you were looking for a horror film, this movie was not scary, but more so a family watch. I'd give this movie a 3 out of 5 stars and would recommend it to a younger audience and newer fans of the Five Nights and Freddy's community.