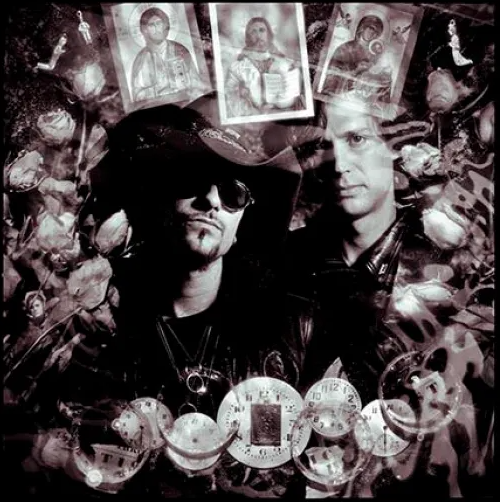 "Psalm 69, The Way to Succeed and The Way to Suck Eggs", is an album that revels in its chaos and brashness. Spewing from the creativity of Chicago's Ministry, its infamy garnered them the attention of most everyone in the 90's. 
Getting their start in 1981 as the head child of front-man Al Jourgensen, Ministry began as a fun, 80's new wave band, promised by their record label that they would be made into "the next Joy Division," a statement that would prove misleading. Upon leaving their record company, Ministry began darkening their sound, akin to the plentiful industrial bands in the Chicago area. 
Now without the control of executives, the band could incorporate whatever they felt necessary for their music. While releasing plenty singles and a full album from 1985-1987, the band's first complete nose dive into depravity would be their 1988 album,  "The Land of R**e and Honey". Followed then in 1989 with the Album, "The Mind is a Terrible Thing to Taste",  these near perfect projects pulled zero punches and pioneered what we know today as industrial metal. Each filled to the brim with groovy drum loops, disturbing guitar riffs and the sampling that they would be famously known for. 
With both albums under the bands belt there was only one thing they could do, make things faster. "Psalm 69" is considered one of their fastest records, featuring heavy inspiration from speed and thrash metal. With only about nine songs in total, the band manages to cram a cacophony of noise into a neatly packaged 44 minutes. With songs such as "TV II" it's no wonder why this album is considered one of their fastest. 
Opening with "N.W.O," an ode to President Bush's famous speech,  you're immediately blasted into the album. Still keeping the industrial edge from the last projects, this song has a memorable yet simple guitar riff that shreds throughout. Alongside Al's haunting lyrical delivery, the drums tear through the rhythm like its paper, making it hard to not at least bounce your feet while listening.
The second track "Just One Fix" opens with Peter Fonda and Bruce Dern's dialogue about Thorazine from the movie "The Trip", as well as a sample from the film Sid and Nancy stating, "Never trust a Junkie." The theme of the song makes itself disturbingly known straight from the beginning as we're taken through, once again, a chaotic barrage of Industrial formed from Mike Saccia's incredible guitar work in tandem with Al's rhythm.
Following this, "TV II" begins straight away, giving us no time to rest. The guitar rips through the song at breakneck speed with its frenzied tremolo picking along with mouth watering blast beats. Al's delivery on this song in particular is, in my opinion, his most intense. 
The song, "Hero" opens after, wearing its thrash metal inspirations on its shoulders proudly. Sounding like a track right from the San Francisco thrash scene of the early 80's, Ministry creates another song that makes me wish desperately that I could have seen them in their heyday in the 90's.
Succeeding Hero, we've now gotten to the big hit of the album "Jesus Built My Hot rod". A vastly different song from the others, it shows the band's capabilities to have a comedic edge, while also pushing a message through their songs. Bringing on the talent of Butt hole Surfers lead singer Gibby Haynes, this song becomes much more groovy than it is heavy. While not quite my favorite song from them, it still has an important place on the album
If you were to listen to this album and gloss over the next song "Scarecrow," then shame on you. Although significantly longer than any other song on the album, it heavily gives me reminders of songs from "The Land of R**e and Honey" as its slow, brooding and meant to disturb with its eerie lyrics. The guitar gives this track a new edge that others in previous albums never had, as it fills the blank space and gives the song more depth.
Returning to the heavier side of things, the title track "Psalm 69" presents a horrific chorus and chanting in praise of Jesus, toting that "I feel like my heart is being touched by Christ" and right before we enter the main hook and riff of the song, a man tells us "And now, it's time for us, to give a little love back to god." Immediately the song rips into the riff, bellowing out a groovy and intense sound. The lyrics hold near zero punches as Al shrieks, "The body of Christ looked unto me, a preacher with c**k in his hand. He wants you to suck on the holy ghost and swallow the sins of man." For this reason, Psalm 69 is my all time favorite from this album. 
The final two songs of the album "Corrosion" and "Grace" both feature no lyrics, but instead samples from movies and screams. They, to me, are predominantly what I think of when I think of "Industrial music." They're dark, disgusting songs that when I first heard them, I almost turned off. They're just that odd, mainly Grace as it's a 3 minute collage of complete and utter noise with occasional snare hits and guitar strums.
Overall, I feel that Psalm 69: The Way to Succeed and The Way to Suck Eggs is an excellent album that shaped the entire genre of Industrial Metal, influencing who knows how many bands. And while I feel it's not as good as the previous two albums before it, it's more than perfect in its own ways. I've loved this album for so long as it and Ministry have been with me all throughout High School, helping me feel out my life during my worst and inspiring me  during my best. The final score I'd give the entire album would be a strong 9/10.