Willy Wonka Kids Play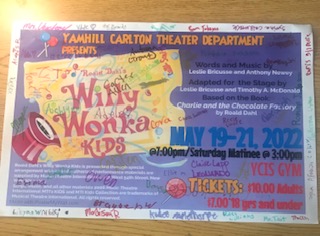 With the YC theater program up and running once again, the theater department has put on a couple shows during the pandemic. One of which being Willy Wonka Kids.
It took YC a full three months to put on this play, and oh boy was it worth the wait. The students put on a wonderful show that brought laughs to tons and tons of people.
Stephanie Belt-Verhoef was the main director of the play. When asked about what the best part of directing the play was, she responded with: "The best part about directing the play is working with the cast and crew and like, bringing the story and the vision to life."
However, this play was not produced without challenges. The cast had many first timers, and the majority of them were in 4th, 5th, and 6th grade. A lot of the theater kids had even expressed a lack of confidence in the play because of COVID and the lack of older kids helping out. 
Even with these deterrents, the Willy Wonka Kids Play went almost perfectly. The show was well received by the audience and the tech crew did an amazing job.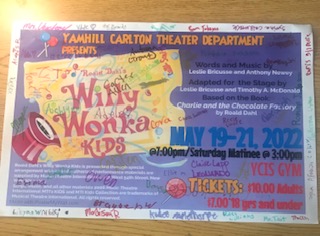 Anne Foley, the main choreographer for the play, had some things to say about the show as well. When asked what she thought would be different about this play, Foley responded by saying this: "… I think we've taken some creative liberties with our prop design with our students. We've used the actors as the props and as the storytellers of the whole show."
Foley explained how excited she was to put the show on and how happy she was to see it all come together within the final days of rehearsal. She said that teaching the choreography was fun and that she was very joyous when the cast could get it all down correctly. 
Something that a lot of people get mistaken about theater is that it's only for girls, or that the guys who do it are just not manly enough for sports. That is simply not true. 
When asked about this, Belt-Verhoef responded with a sweet statement. "The truth is, is that theater is for everybody. I say this all the time, anybody can do theater… And in my theater experiences working with kids, I've had the quarterback of the football team be the lead of the play."
Theater should be for everyone, not just for one specific type of people. Theater was created for people, and that should be enough.