Rocketry Team and Their NASA Launch
The rocketry team of Yamhill-Carlton High School is hitting it high. From being accepted by NASA to launch their rocket, to going to a rocket launch in Alabama.
For being such a small school, the rocketry team has done amazing things. And they committed to many months of hard work and writing up long reports about their launch.
The rocketry team consists of Dominique Harris, Ryder Ramirez, Charles Weigant, Kylie Warner, Josh and Jordan Clements, Adam Robbins, and Isabella Hoffarth. These amazing YC students range from seniors who are almost graduates to freshmen, who are just getting to know high school life.

The team's trip was from April 20 to April 25. The students didn't have to raise money individually. Instead the team got donations from local businesses and foundations and handled all the travel expenses.
YC was one of six high schools that got to launch at the NASA eve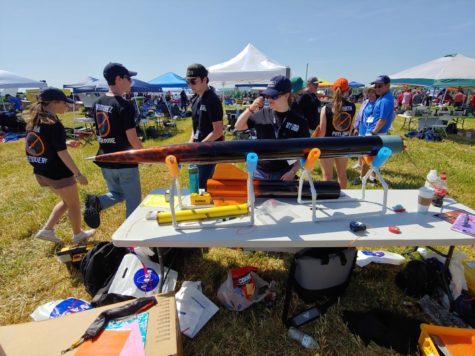 nt in Alabama. But there were about 40-50 schools there.
Ryder Ramirez, a sophomore at YCHS, said, "I'm excited to submit our proposal next year, and do this again."

Jordan Slavish is YC's rocketry, engineering teacher and advanced math teacher. He has been working at YC for 8 years.

Several adults went on the trip, including Slavish and math teacher Kristen Watson.
Slavish said, "It was really nice, just to have everyone there to celebrate our victory."

Everyone from the team was able to go. Ramirez said, "It was fun to have everyone there hanging out in our hotel room, it was really fun."

 The team's launch was "perfect," said slavish. "Everything went super well, and the rocketry team had the best overall looking rocket."

The rocketry team isn't an exclusive club, anyone can join! There is even a chance next year that 8th graders could join the team.  Just like motivational speaker Brian Tracy once said, "You can only grow if you're willing to feel awkward and uncomfortable when you try something new."

So maybe, even you could join a rocketry team, whether it's Yamhill-Carlton's Rocketry team, or the one at your school. Trying something new never hurts.