Sprinting Into Spring: The Start of YCHS Track Season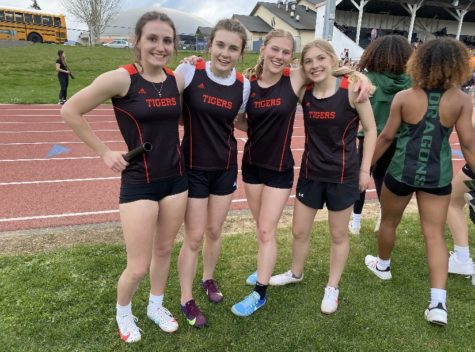 The team is coached by YC staff members Tracie Looney, Maddison Woods, and Brad Post. So far there has been one home meet for YC and it went well. On April 27th there will be another home meet and the team is excited to get people out watching the kids in our program compete. 
Freshman Natalie Frey competes in long jump, high jump and relay. It is her first year and all she has to say about the sport is how rewarding it is. 
"I really love the individual aspect of the sport and I strive for self improvement. Also it still incorporates the team aspect as well which is nice," says Frey. 
Frey says, "Track is definitely more individual than other sports. This is my first experience in the track and field season. But so far I'm really enjoying it." 
She has done moderately well for her first season and she looks forward to future seasons and seeing where the sport takes her. 
The next athlete to talk about on the team is Brodin Tuning.  This is Tuning's last year competing as a high school track athlete. Tuning is a senior this year and has participated in track for four years. He competes in hurdles, javelin, and relays.
"It's different because it's a team sport, but also has to do with individual scores in each event. It also measures your progress very well," Tuning says. 
Although track and field appears to be an individual sport all of the scores total up to be a team score.  It keeps things interesting and makes you strive to do your best. 
Track and field also allows people to grow and try new things as an individual. Tuning says, "This is my first season doing hurdles and I think that I have picked it up pretty quickly."
YCHS track and field team is diverse in ages and competitions they compete in and it is a cool experience to be apart of a team like that. The team looks forward to home meets and is excited to watch times go down and distances go up in personal and team competitions.