YC Student Launch Feature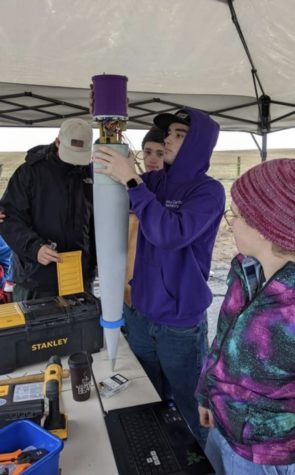 The rocketry team's  journey launched in August and is soon landing on April 25th. YC Student Launch has been working hard to create a rocket that will be one of 16 to be launched in the U.S. made by the selected few high schools in America.
"We will be put in front of a panel of judges made up of NASA employees and engineers and then we will launch our rocket…Our goal is to reach our target altitude of 4,000 feet and to continuously collect and present data from our payload force sensors," says team member Dominic Harris.
Harris is one of the nine students in the YC student launch program and is the team leader. When he is older he wants to be an engineer that specializes in aerosciences. Harris says there's a lot that goes into a rocket project like this one and states, "A lot of time, money, and effort go into this. Spread out across our team we have spent a total of 2,000 hours and 15,000 dollars on this project." 
Another student on the team is Ryder Ramerez, a sophomore at YC. Ramerez says, "This Project is important to me because I get to be a part of an experience that only 16 other small teams in America do too. It's a very long but rewarding experience." 
" We will be Launching in Huntsville, Alabama," stated Ramerez. 
The team will leave early on April 20 to head to Alabama where in the next few days they will launch, present, and watch others do the same. They will get results on their launch and how they did later on the 23rd.
Along with the 16 high school teams, our team will be able to see college teams attempt the same launch as they did and there are only about 60 college teams competing. 
At the start of the year the team was given a format for their rocket. They have to reach a certain altitude, successfully take off and dismount their parachutes, and then land within a certain distance of the starting point and they have to build a rocket based on the calculations and requirements they were given. 
Our team deserves recognition for their countless hours spent over the past 8 months to produce a rocket that will represent our rocketry program well. Being 1 of 16 teams in America to be selected has been an incredible experience for all of the kids as they expressed. 
The whole team includes; the payload team consists of Adam, Jordan Clements, and Izzy Hofarth; The Airframe team includes Ryder Ramirez, Dominic Harris, and Siri; Recovery team is Kylie Warner and Charles Weigant. Each member of the team also has an individual role that goes more in depth.