YCHS Softball Team Is Swinging In Hot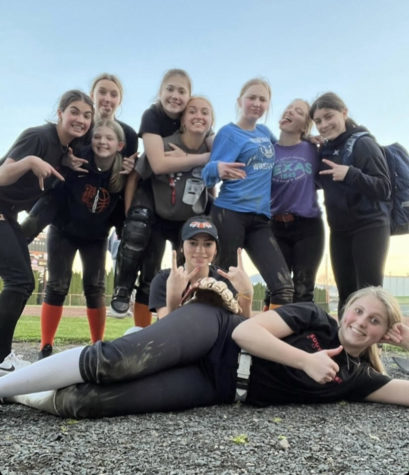 Yamhill- Carlton High schools softball team has been coached by John Kuehnel for years. He's seen current players' siblings pass through highschool and he's watching the current players do the same. 
The program has seen many of our teams win state titles and championships and they see the same for our future. This team is special because most of the girls grew up playing softball and t-ball together since preschool so they have a special bond with one another when on the field. 
Briley Ingram, a junior at YC is one of this year's pitchers. She plays an important role on the team and has played since she was little. Her goal is to play in college. 
She has been one of the main pitchers all three years she has played in high school and has a  goal to average 10 strikeouts per game as well as gain better accuracy in her overall game of softball. 
Ingram believes that as long as the team continues to grow together they have a chance of winning state. That's always the goal though. The season is just starting but Ingram says, "It's going really good, I am excited to grow alongside these girls in the coming months."
Ingram's favorite memories and things about softball are, "Bus rides, and the competition," she says. The team is coming together nicely and they have all made up goals for themselves and the team and are excited to play their first game on March 15th, in Astoria.
This year the team had several freshman try out and Cecelia Petraitis is one of those few. Petraitis is a freshman who has played softball since she was young as well. Her positions on the field are third and catcher.
She has been mainly a catcher in her softball career but is excited to try out any position she's thrown in since this is a brand new team she's on. 
Petraitis says her favorite thing about softball is, "The competitive atmosphere as well as it's outside and you get to play with a lot of fun people." 
She is looking forward to the bus rides as a team because she has heard countless stories about the jam sessions the team has to and from games. " When you get in a small bus with Kya Ellis and Dorothy Adair it's the perfect recipe for a good time," she says. 
Both Petraitis and Ingram are excited to see the team and how far they will go this season. There are a lot of promising people on our team and we will bring a good amount of competition. Even their practices are incredibly fun but always productive as they mentioned. 
The girls look forward to this season and can't wait to see what comes of it. Their only request was to get more people out to watch their games.
" We hope to see you there," Petraitis says.