Yamhill-Carlton's Staff Christmas Travel and Christmas Travel Guide

Now that many people have the COVID 19 vaccine, there are going to be a wider range of people traveling this Christmas. About 40% of Americans travel away from their home during the Christmas season. The staff at Yamhill-Carlton has Christmas traveling plans of their own this year.

¨Yes, I go all out crazy for Christmas,¨ said Renee McKinney, one of Yamhill-Carlton's English teachers. McKinney travels every other year, and is excited to be traveling again this year.

Depending on where you are traveling this Christmas it is good to know these things. Know where you're traveling, if the weather is going to be safe to travel, have you packed everything you need, are you prepared for any circumstance, and what you're going to do with your pets if you have any.

When you plan where you're going to go for Christmas you should know your destination, start by asking yourselves questions like: is this place highly traveled?
Is it worthwhile going?

When you travel for Christmas, you should always look at what days are best to travel, especially if you're travelling to a snowy region. Always make sure you bring emergency backup equipment, including: Blankets for warmth, tire chains for your car,  flashlight and extra batteries, a first aid kit, bottled water and non perishable foods.

Pets can always seem to get in the way of traveling for Christmas. What do you do with them? This is a very common question. "I usually get a cat sitter," says Spanish teacher Erin Sunday.
Getting someone to watch your kids can be a hard task. But the easiest thing to do is ask a nearby friend or family member.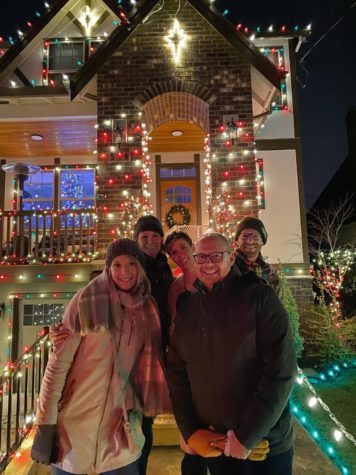 Sometimes when you travel you run into circumstances that are bizarre and you're not sure how to handle them. For example, your kid or sibling slips and falls on the ice when you're at a stop and they break their arm. Will you know how to handle this? Just incase of this kind of situation, bring a sling in your emergency kit. Make sure you think of any situation and prepare yourself for it.

It may feel like Christmas travel is too big of a hassle to deal with. But is it worth it? When you travel for Christmas memories are made, you laugh and have fun. And when you finally get back, you've made amazing Christmas memories.

Jordan Slavish, math teacher, has traveled to New Zealand for Christmas, where he made amazing memories, "I once did Christmas in New Zealand, which is in the Southern Hemisphere so the seasons are backwards. So it's Christmas in the middle of summer and it was very strange. It was weird to see palm trees."

Traveling during Christmas can be exciting and scary at the same time, especially traveling somewhere new. Times Square in New York City, New York can gather up to 2.5 million people, that's almost 7% of the United states population. It must be worth it.

When Christmas comes around this year, be ready with your travel plans. Make sure you have chains for your tires for when you travel somewhere cold, or sunscreen for your nose if you travel somewhere hot! Just remember when traveling gets scary, just relax, after all… it's Christmas.

Yamhill-Carlton teachers have been traveling from a young age. Slavish says, "I've been traveling since I was a kid, and now I take my kids on Christmas vacations."
With a lifetime of experience, Slavish and the rest of the staff at YC, can show their kids, and others how to travel safely. But still have fun.