Morgan Wallen "Dangerous: The Double Album" Review: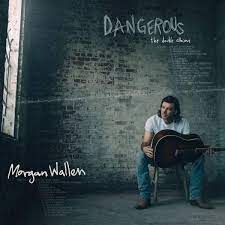 Morgan Wallen, a 28 year old country singer from Knoxville, Tennessee, has many great songs and is a very talented artist. He first started being noticed in 2014 when he sang at "The Voice" and even though he lost many people took an interest in him.
 About 10 months ago at an interview at the "Bobby Bones Show" he was asked where his inspiration comes from. He responded by talking about how the littlest things can give him a spark such as just a conversation. He also said a lot of his songs come from experience, which I personally think makes anyone's music mean a lot to their listeners.
 I discovered Morgan Wallen's music by hearing a few songs when I was with friends and also listening to the radio. At first I didn't really know how I felt about it but after hearing more and more of his music I began to love his lyrics and I now listen to his songs every single day.
 The first song that I heard from him was "Whiskey Glasses". I think this was a breakthrough song for him that many people were fond of. The last couple of years he has been coming out with even better songs.
 Although there are many great songs in this album, my personal favorites are "Warning" , a song about wishing you knew the outcome of your choices, as the lyrics say "Everything about that night I thought I wanted, should have come with a warning." Or the song "Wasted on You" about wasting your life on someone that wasn't worth it in the end. "All of this time and all of this money, all of these sorrys I don't owe you honey" "All them days I spent wasted on you" 
I think the overall theme of this album is the aftermath of a break up and just getting through a heartbreak. I would give this album a 5/5 based on personal preference. 
Because of how relatable these lyrics can be to many people and how much the words can speak to you, I think many people would also love the songs in this album.