Quinn Takashima: Volleyball coach of the year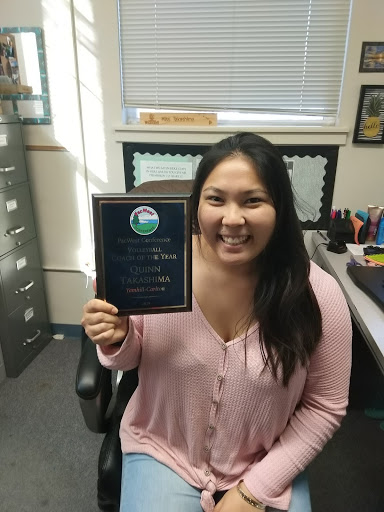 Driven, Hard-working, respectful, and family. These are the words coach Quinn Takashima uses when describing her volleyball team. 
This year, Takashima received the award of co-coach of the year, tying with Salem Academy's volleyball coach. She received this award while attending the PacWest conference for volleyball. 
Takashima describes what the moment of receiving an award felt like. 
"I thought it was really an honor. It was really nice to be recognized as somebody in the league that is establishing a good program. I felt really proud and honored. We didn't win league, so it reassured me that I was on the right path."
The girls volleyball team's overall score for games was 9-6 this year. Takashima has goals of how to improve her team overall in the future, and not just by scores. 
"[I would like to] work on improving the girls' skills, making them into strong young women as adults. I care more about that than how to hit a ball." Takashima said,"I try to focus on advocating for yourself, being honest with your teammates and working on communication. This year what I really focused on was communicating how to say what you need, without being rude, but also getting your point across."
Junior Kierra Knapp, who played volleyball this year talks about Takashima. 
"She is always wanting the best from us as players. Not just on the court, but off the court as well, she pushes us to be our best in a good way and tells us how we can improve."
Takashima can be seen as having a positive impact on her players, as Knapp explains how her coach has helped her. 
"She is a positive coach, but can be stern when we need to get our heads in the game. She is overall an amazing coach. I remember once when I needed help getting down a [passing] skill and after practice she stayed and helped me," Knapp says. "She kept encouraging me and helped me get those passes down to get me where I am today."
Knapp explains another thing she enjoys about Takashima as a coach.
"She knows me as a player and a person. This is how she gets through me as a coach and it's very effective!"