Kindergarteners Come to YC
On October 16, two groups of about 40 kindergarteners came to YCHS, celebrating the fall season. With several activities for the children to enjoy, this made sure that the kindergarteners had a great time. These activities included a small corn maze,  student-painted face cut-outs, a safe hayride, a craft activity, and several pumpkins for the kids to choose from. Jared Collins, the school's FFA teacher made the event possible, along with the help of 20-25 students. 
     Jared Collins explains how this year's first pumpkin patch event occurred.
   "Making phone calls, the planning, and [growing] the pumpkins took several hours. We got a really good foundation established this year," Collins said."It turned out even better than I thought. The kindergarten class, the teachers, [and] the parents loved it."
     Through all the planning that took place this year that led to great success, Collins has an idea of what he would like to take place next year. He says he would like to add to the pumpkin patch event next year.
"We had a lot of pumpkins donated this year. I'd like to see more of the pumpkins grown by the high school students. [I would like to see] more interaction between high school students and kindergarteners." Collins said, "We might add another activity. [We will] make everything bigger and make the straw maze just a little bigger next year."
     There were multiple parts of this event that were exciting for both the kindergarten classes and those involved. Collins explains his favorite part.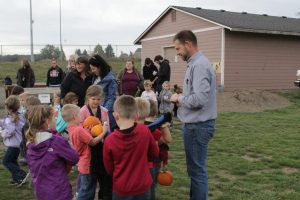 "[I enjoyed] seeing all the kids walk away with their own pumpkin. Everything was just so exciting to the kindergarteners." Collins said, "Getting to see my son enjoy it too was fun."
   FFA students explain their experience of being involved in the event. Lisie Luttrell explains one of her favorite parts. 
"My favorite part of the pumpkin patch had to be the kids' reaction to the whole event. They were all running around with big smiles on their faces," Luttrell said, "And I think they really enjoyed the different activities we had for them to do."
   Another student involved, Chase Couch who drove the tractor for the event says his favorite part was looking back at the kids on the flatbed trailer and seeing them laugh and smile.
   As the advisor of FFA, Collins plans on continuing the pumpkin patch event each year, making it a great experience for the kids. He also plans on being sure to always include the FFA students.