Why High School Students Should Volunteer to be an Outdoor School Student Leader
Outdoor school counseling is a great opportunity for high schoolers. Being a student leader allows high schoolers to spend some time in the outdoors, learn teaching skills, and really make an impact on kids' lives.
Nowadays, kids and teenagers don't typically spend as much time outdoors as they might have in the past. With all the new technology there is these days, it's hard for mother nature to compete. As much as it is fun to watch tv, and play video games, it's still good to spend quality time in the outdoors.
Outdoor school is one way for high schoolers to get outdoors and experience what the outdoors has to offer. It could also give teens the opportunity to be in a new environment altogether. For instance, there is a school in Arizona, Basis Tucson North, that has a trip to Oregon, organized by a teacher by the name of Kevin Mathews, specifically for outdoor school.
In Oregon there is a program called Northwest Outdoor Science School that, right now, has four different campsites; Magruder, Westwind, Cedar Ridge, and Trickle Creek. Magruder and Westwind are both campsites that are right off the beach, and Cedar Ridge and Trickle Creek are out in forest areas.
Being in the outdoors, in general, is just one plus to high school students volunteering as a student leader. Volunteering as a student leader can also help build character, especially in growing teenagers.
Peter "Hogarth" O'Brien has been a staff member at Trickle Creek sense the spring of 2014. During this time, he has worked as a Program Leader for four seasons, a Field Instructor for one, and was the Program Coordinator for one season.
Hogarth's first experience at Outdoor school was when he went as a sixth-grader. He then later built his confidence in front of large groups through volunteering as a student leader at Sandy River, Magruder, and Westwind throughout high school.
Hogarth said, "It doesn't always seem like something high schoolers want to do," but would recommend it to anyone who is even remotely interested in building leadership and teaching skills, meeting new people, and spending some time outdoors.
Outdoor schools can be a great experience for everyone and is a great opportunity for high schoolers to volunteer as a student leader.
If you are interested in volunteering as a student leader for Outdoor School or are looking for more information, talk to (Junior) LaVon Weigant.
Leave a Comment
About the Contributor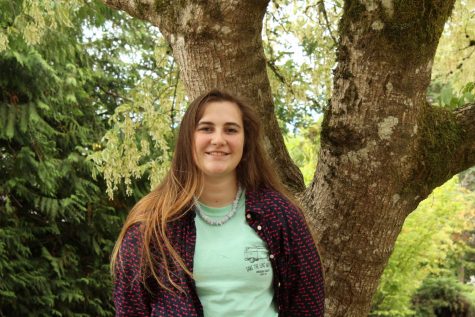 LaVon Weigant, Staff Writer
I am currently a Junior. I was in journalism, on the newspaper staff my Freshman year, and joined again, as a reporter. I wanted to join journalism because...