Eagles Beat the Patriots in the 2018 Super Bowl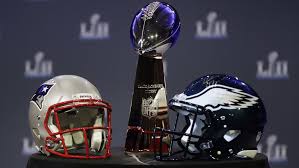 Many people were surprised by the outcome of the 2018 Super Bowl. The underdogs had won! The Philadelphia Eagles beat the New England Patriots by eight points. Many expected the second half of the game to go to the Eagles like it did in the previous year with Patriots against Falcons. But the Eagles pulled through. Having never won the Super Bowl before and then suddenly winning against one of the juggernauts of the NFL was a huge deal and even caused the winners' fans to riot in the streets.
The Philadelphia Eagles were formed in 1933. They have won 493 games since then and have lost 533 games. They would go through a couple of years of winning but would then start a losing streak for about a decade after each win streak. Their first Super Bowl was in 1981 where the lost the Oakland Raiders by 27-10. Their second Super Bowl appearance was in 2005 where they lost to the New England Patriots by 24-21. Their third and most recent appearance was this year where they beat the Patriots by 41-37.
Sophomore Julie Easton's supported the Eagles this year. Her grandma is a, "Die hard Eagles fan." Her family celebrates their super bowl with a "hearty" main dish such as ribs or steak. Easton's favorite Super Bowl halftime was Lady Gaga's halftime. She even said, "Lady GaGa, for sure. I think she killed it!" Easton and her family were thrilled and excited by the outcome of this year's Super Bowl and they, "Screamed so loud it was deafening.
This football season the Eagles only lost five games out of a total of 23 games. This is a huge leap compared to their nine losses out of 20 in their previous season. After their record-setting win, the Eagles fans rioted in the streets flipping over cars tearing light posts out of the ground and extensive property damage. The Eagles fans were celebrating by destroying their city. They were looting shops and fighting. Somebody even stole a police horse. Most of the incidents occurred along Broad Street in Center City, where fans chanted "Fly Eagles Fly" in an area packed with green and white jerseys.
Tyler Bischof, a junior, is a hardcore Patriots fan and was visibly irritated with the results of the game even stating that, "The Eagles shouldn't have won. They are a crappy team and didn't deserve to win." He supports the patriots because, "They are better than everyone else because they have the most Super bowl victories." He believes that the patriots deserve all of the wins in the Super bowl. He also said that the eagles fans probably rioted because, "They are a trashy team, so its just in their nature." His favorite halftime show was Keshaś and he hated this halftime because heś not a fan of Justin Timberlake.