What's Coming Next for the Team?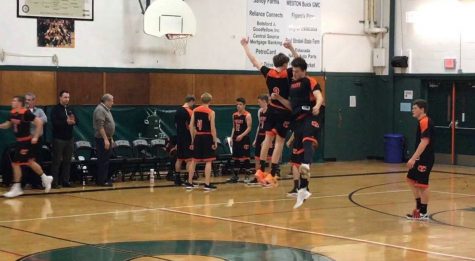 Before each game as starting lineups are announced the players each have their own unique thing they do. As the five are coming together they hip bump, seniors Chandler Morris and Jared Barrett hip bump before the game at Estacada.
The YCHS boys basketball program officially started on Wednesday, November, 29th. The team currently has 10 seniors who are all on the varsity squad. Senior, Chandler Morris, as being captain said, "We need to come into EVERY game thinking that we are going to win, but we can't go in thinking we are going to walk over the other teams like it's going to be easy, we need to work hard all the time." Morris knows that we are in one of the more difficult 4A leagues and that no matter what they need to give every game their all. This is the first season that Morris had to play a couple games without senior Braden Frost as he was injured. He said that he needs to have more of a leader role in making sure they all stay focused during practices in order to get somewhere this season.
Senior Camden Myrick has very doable things he wants to happen this season, he also knows things that are going to happen no matter what. "I want to see us progress and be able to grow as a team together, to be able to get more wins, be able to work better together. I expect us to have our ups and downs but I think we are a strong enough team to fight through those downs." He says that the steps he needs to take to succeed are always working his hardest and to properly give and receive constructive criticism.
After putting up a fight against the Gaston Greyhounds, the YC Tigers lost by just three. Senior, Jared Barrett, was highly disappointed in how he played. Success in a sports team all depends all on how the boys play. Barrett knew the team was off a little at the game, "We need to work harder in practice, focus more, and not panic during games."
Being the only full time non-senior varsity member, junior Decker Richmond has shown coach Gary Mcculloch that he has what it takes to play full varsity. After his first game that he actually got to start,  Richmond said, "It was my first varsity game so I don't think I did too bad, missed some easy shots." Further into the season, he says that he and the team need to cut the turnovers and continue to build on what they have done in the Gaston and Estacada games. Getting into foul trouble is really common, Richmond said regarding the game on thee 29th, "Cut down on fouls, the fouls killed us as our players were getting into foul trouble."
After breaking his foot over the summer and being out all football season, senior Braden Frost was back on the court on December 5th against Estacada. He said that it felt great to be back on the court and that is sure had been a long time. This was an overall great game for the Tigers. Frost said the best part of coming back this game was getting a win early in the season before league starts and getting the team back together. Being injured can affect one's mindset about being able to play. Frost said, "It [being injured] has actually helped a lot. I understand a lot more of the mental aspects of the game and watching more just helps you find a lot more openings." The majority of the varsity team have been playing together or against each other since the third grade. Frost believes that is why this current team has the best teamwork, they know each other's strengths and weaknesses so they are all able to work with each other in order to succeed.
Nobody really knew when Frost was going to be back on the court, regarding his first game back he was a little shocked but then overall super happy. "It was iffy, but I wanted to be back so it all worked out."
Frost's first game back resulted in a 62-49 win over the Estacada Rangers. Barrett lead the team with 19 points, Frost with 14, and Morris with 11. The boys basketball team started their league season last night at Cascade. 
Schedule
1.30.18 vs Philomath 6:30pm
2.2.18 vs Cascade 8:00pm
2.9.18 vs North Marion 8:00pm
2.13.18 @Stayton 7:00pm
2.16.18 vs Newport 8:00pm -SENIOR NIGHT
2.20.18 @Philomath 7:00pm